CONGRATULATIONS to Susan who is the winner of The Lady's Slipper picked out of the hat today!
Many thanks to everone else who stopped by my blog and made the effort to enter, wasn't it a great idea of Amy's. Hope you might have won something in the other draws.
A short post today as I'm one of the stops on the Fantastic Historical Fiction Holiday Blog Hop.
THE LADY'S SLIPPER
Top Pick! Swift's eye for detail and language augment this atypical debut. Compelling and intriguing, this is a well-told story full of wonderful prose and surprising events. It's a vivid addition to the genre.
--RT BookReviews
To win a copy of my debut novel THE LADY'S SLIPPER please leave a comment below.
Giveaway Open Worldwide. Don't forget to leave an email address. One extra entry if you follow this blog, and another if you tweet my post.
As for the
Historical Holiday Blog Hop
- Just look at the fabulous prizes you can win! Click on the banner above to follow the other blogs on this hop.Historical Holiday Blog Hop Grand Prizes - $25 Amazon or Barnes and Noble Gift Card - Prize package(s) from SIXTY historical novels.
Grinling Gibbons
- such a wonderful name - was the "King's Carver", in the Restoration period and was famous for beautiful carved wood decoration for St Paul's Cathedral, the Palace of Windsor, and the Earl of Essex's house. Legend had it that his carving was so fine that the wooden pot of carved flowers above his house in London would tremble from the motion of passing coaches.
Walpole later wrote about Gibbons: "There is no instance of a man before Gibbons who gave wood the loose and airy lightness of flowers, and chained together the various productions of the elements with the free disorder natural to each species."
Grinling Gibbons was introduced to Christopher Wren by the diarist John Evelyn who spotted him at work and was impressed by his talent. He was able to make wood appear to flow and move and was thus one of the master carvers of the Baroque style. More information about this seventeenth century sculptor in wood can be found at
wanderings in eden
or in the book,
The Work of Grinling Gibbons
by Geoffrey Beard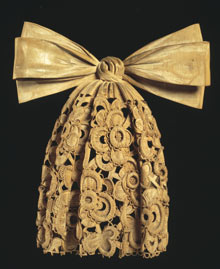 A Man's cravat, carved in lime wood by Gibbons,
courtesy of the V&A Museum
I love comments!